Modern Art:
Les Mason's
Muse
---
trained in painting and interior design at Chouinard Art Institute, where he would have been exposed to groundbreaking movements in Modern Art such as
Dadaism
,
Surrealism
,
Arte Povera
,
Geometric Abstraction
,
Minimalism
, and
Assemblage
. The influence of these movements can be deduced from Mason's approach to art direction and design of
Epicurean Magazine.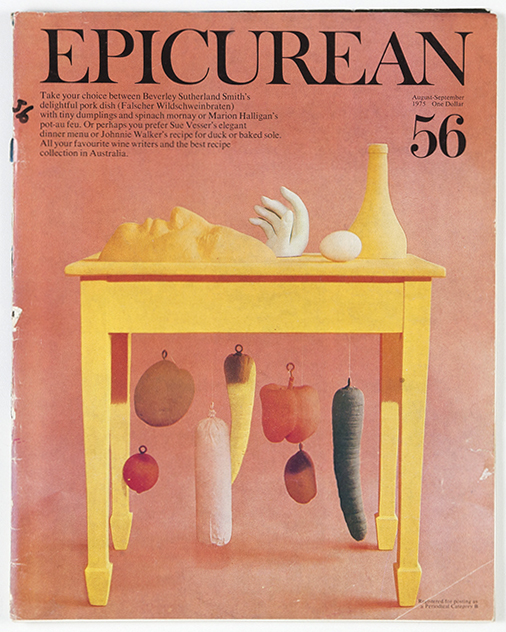 From 1966 until 1979, Mason designed and art directed 77 issues of Epicurean. As the project budget for this food and wine magazine was limited, Les and his design team took charge of innovative approaches to producing each issue.
---
Borrowing techniques from
Surrealism
,
Geometric Abstraction,
Pop Art
and
Assemblage
, each Epicurean issue appears fresh and new. In
Epicurean issue no. 64
,
a fish leaps out of a tablecloth disguised as a pond, while a man in a suit appears seated with an apple for a head in
No. 50,
reminiscent of Surrealist Painter Rene Magritte's iconic 1964 painting
Le fils de l'homme
. Stranger still, in
Epicurean no. 57,
a hybrid table and piano is seen beneath an enlarged apple, wine bottle and sphinx reminiscent of those painted by
Leonor Fini
. This striking and unexpected use of imagery recalls the Surrealist embrace of
the uncanny
, the Freudian concept of an object that is familiar yet alien at the same time.
Surrealism
explored this notion through creating artworks that combined familiar objects in
unexpected ways
to create uncanny feelings that aimed to revolutionise human experience.
---
In
Epicurean No. 77,
an arrangement of found objects within a wooden frame is reminiscent of
Assemblage
pioneer
Joseph Cornell's
boxed artworks containing whimsical juxtapositions of various objects. Mason often turned to
unusual juxtapositions
in his Epicurean designs, to transform the common subject of the magazine—food and wine—into new, fresh, exciting and visually stimulating covers.
Mason's deep appreciation for Modern Art can be seen throughout his design career. In branding work for the gate and fencing company
Weldmesh
,
Mason brought visual energy to sales brochures through striking use of contrasts in colour, line, pattern and geometry, reminiscent of the bold, geometric abstractions of
Frank Stella
and Bauhaus innovator
Josef Albers
. Other works, such as the
Bicentennial poster
and the
Peace poster
from 1995, utilise handmade imagery through lithography and other fine art printing techniques. The enduring impact of these works points to the value to contemporary designers to step away from digital methods and embrace the unusual and sometimes unexpected results of physical assemblage and handmade imagery.
---
Images:
1. Les Mason, Epicurean No. 56, August–September 1976
2. Les Mason, Epicurean No. 64, December 1975–January 1976
3. Les Mason, Epicurean No. 50, August–September 1974
4. Les Mason, Epicurean No. 57, October–November 1975
5. Les Mason, Epicurean No. 77, February–March 1979
6. Les Mason, transparency featuring grapes and wine glass, c. 1975 7. Les Mason, Epicurean No. 43, June–July 1973
8. Les Mason, Brochure titled 'A.R.C Weldmesh Thoroughbred Protection Panels', 1967-197
9. Les Mason, Bicentennial Poster, 1988
10. Les Mason, Peace Poster, 1995
---