Melbourne Design
& the Swiss Style
---
Les Mason's
work is strongly influenced by European design, with the
Bauhaus
movement and the
Swiss design
sensibility referenced throughout much of his career. This is in part due to the influence of the Swiss Design school in the development of design culture in Australia and globally. Australia's design aesthetic in the 1950s continued to echo the English classicism of serif typography and centred alignment.
---
Contrast this with the refined aesthetic of Swiss International style, and a new approach to design began to make its way into the Australian landscape through
Mason's work
and his peers such as
Garry Emery
,
Brian Sadgrove
and Swiss expat
Heinz Grunwald.
After relocating to Melbourne, Mason observed American designers returning from Europe applying European design principles to their practices. Mason adopted this
clean
Swiss aesthetic with
asymmetric
grid based layouts, applying his knowledge and influence from the American graphic design landscape with pioneers such as
Saul Bass
and
Lester Beall
, whose education had strong roots in Bauhaus and Swiss Design philosophy and theory. At the time, Swiss Style provided budding designers with a progressive approach in the field of communication design, focusing on
Abstract Expressionism
and colour field painting that veered away from the traditional and conventional practices of marketing and advertising of the period, which had remnants of ornamental styles from the 19th century seen through the popular use of centred alignment and serif typography.
---
The grid system, developed by Swiss International Style pioneer
Josef Müller-Brockmann,
provided an effective way for designers to create a system to highlight the hierarchical structure of a piece of visual communication. The use of the grid is evident in Les Mason's less playful—but more straightforward—typographic designs such as his advertisement posters for cult fashion brand
Yves Saint Laurent
and the
Gedye Compost Bin
and water gardening.
---
Other examples of this structured design application include Mason's various
brochures
for A.R.C Engineering's Weldmesh fencing products. The covers of these
brochures
feature brightly coloured patterns and forms
juxtaposed
with structured typographic applications. Equally structured are the brochure's inside page layouts, set in grotesk sans serif that present type and image cleanly organised on various sections of the grid system to display written and visual content in an organised, functional order. Echoing the Swiss International Style principles of cleanliness, readability and objectivity, these pieces of work by Mason
contrast
the
playful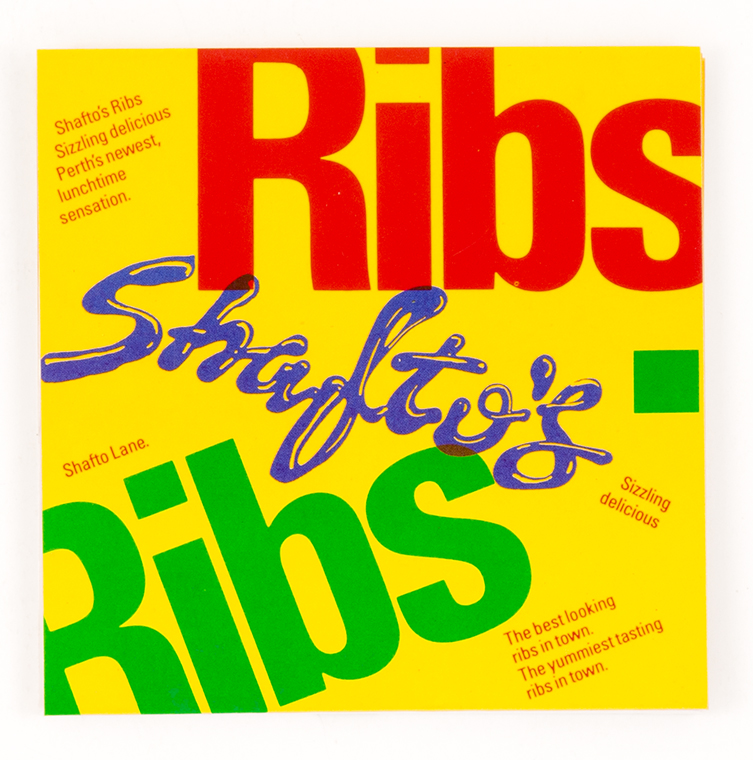 typographic aesthetic of his other projects, yet remain connected to Mason's iconic visual voice through their bold use of
pattern,
line
and
contrasting colours.

---
However Swiss Style was not the only reigning influence on Mason's practice and work as a graphic designer. In the 1970s, designers began to move away from the rigidity of the Swiss International Style's structured grid based approach through the advent of New Wave Typography and pioneers such as Wolfgang Weingart and Willi Kunz. This can be seen in Mason's work for
Shafto's Ribs,
in which letterforms are treated with playful applications, appearing as both formal and textual content simultaneously, signifying a shift from the ultra refined modernist Swiss style.
---
Movements such as these were seen throughout the design landscape on a global scale, and through an extensive knowledge of international design movements, Mason, along with other prominent Australian designers during the 1960s and 70s, successfully permeated the Australian design landscape with these global influences and references that are still present in Melbourne design today. Contemporary designers and design studios such as
U-P
,
Public Office,
Stuart Geddes,
Michaela Webb,
Warren Taylor
and
Dominic Hofstede
continue to produce strong work on the shoulders of these founding designers. The colourful contemporary voice of the Melbourne design microcosm is imbued with a richness that has developed from a vibrant beginning to the Australian design story, of which Mason was so integral to its narrative.
---
Images:
1. Les Mason, 'Common Sense: Sheep Products' brochure, 1967-1973
2. Les Mason, pamphlet for 'Shafto's Ribs', c. 1986
3. Les Mason, poster for 'Allans' music store, date unknown
4. Les Mason, poster ad for Yves Saint Laurent Shop, 1966-1971
5. Les Mason, Geyde compost bin and water gardening products, c. 1977
6. Les Mason, 'Weldmesh house and garden products', 1967-1973
7. Les Mason, 'General Purpose Weldmesh',1967-1973
8. Les Mason, 'Weldmesh Fencing and Garden Products', 1967-1973
9. Les Mason, ads for Geyde compost and water gardening products,1977
10. Les Mason, Brochure for 'Shafto's Ribs', c. 1986
11. Les Mason, Brochure titled 'Weldmesh pig products', 1967-1973
12. Les Mason, Brochure titled 'Weldmesh gates', 1967-1973
13. Les Mason, 'Weldmesh gates for every purpose', 1967-1973
14. Les Mason, Pamphlet advertising 'Shafto's Ribs', c. 1986
---